Bonds have climbed this week on signs of government support
Still, analysts see cap to bonds amid structural challenges
Maria Elena Vizcaino, and Michael O'Boyle, Bloomberg News
MEXICO CITY
EnergiesNet.com 07 31 2023
Bonds from Mexican state-owned Petroleos Mexicanos jumped Friday, posting one of the best performances in emerging markets, after the government provided a $4 billion capital injection.
The debt gained across the curve with notes due in 2033 rising as much as 2.9 cents to 94 cents on the dollar and those maturing in 2060 gaining as much as 2.3 cents to 64 cents. It's the third-straight advance for the securities, the best run in about two weeks.
Pemex received a capital injection of 64.97 billion pesos ($3.9 billion) from Mexico's Finance Ministry, said Alberto Jimenez, associate managing director of finance at the company, on a conference call with investors on Friday.
The injection, which was reported earlier by Bloomberg, came with the condition that the driller makes cuts to capital and operating expenses this year for an equivalent amount as a condition to receive the funds, according to a person with direct knowledge of the matter.
The move is the latest by President Andres Manuel Lopez Obrador's administration to support the state oil giant as production stalls and debt maturities mount. Earlier this week, the driller's Chief Executive Officer Octavio Romero said the government would refinance the company's debt. AMLO, as the president is known, and Deputy Finance Minister Gabriel Yorio also pledged support to the company, giving bonds a boost.
"Pemex is too big to let it fail," said BBVA strategist William Snead, who has been recommending the company's short-dated notes.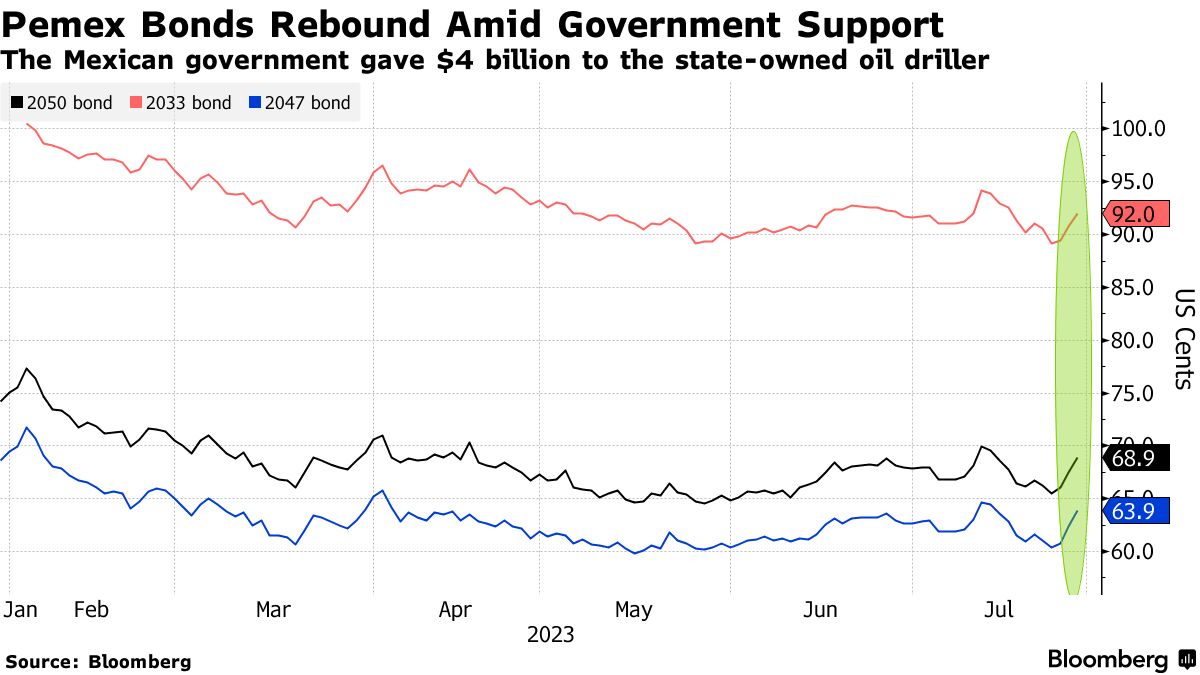 The company is the most-indebted oil driller in the world, with $107.4 billion in financial debt at the end of March, and its production has declined for the better part of two decades. As of the first quarter, Pemex reported $25 billion of short-term debt, of which $4.6 billion is in international bonds due in 2023 and $10.9 billion in 2024, Fitch Ratings said earlier this month.
Its second-quarter net income fell to 25.44 billion pesos ($1.5 billion) from 56.75 billion the previous quarter, the company said Friday.
Band-aid approach
While support from the government provided investors with some relief, they still demand an extra yield of about 5.3 percentage points to hold Pemex's 2028 bonds over similar Mexican government notes, according to data compiled by Bloomberg.
That's because analysts are skeptical the government will make structural changes to how it supports the company, which puts a cap on the bonds.
On Thursday, Yorio said that while the Finance Ministry would continue to "responsibly" support Pemex, Mexico was not planning any legal changes to financially back the company.
"The cash injection would essentially be in line with the band-aid approach by Mr. Lopez Obrador's administration in recent years," Lucror Analytics Sebastian Hofmeister wrote in a note to clients Friday.
bloomberg.com 07 28 2023