The ARKK exchange-traded fund is up 50% already this year.
John Stepek, Bloomberg News
LONDON
EnergiesNet.com 02 03 2023
Five key charts to watch: Cathie's back
I'm going to nag you about this at the bottom of this email too, but you really should listen to the new Merryn Talks Money podcast. Off you go!
We're now well into 2023. January is behind us, and what a January it was. So I think today is a good opportunity to update on our "charts that matter" to see what's changed.
Lost ARKK Found
Let's start with the biggie. The Ark that Cathie Wood built is no longer lost at sea.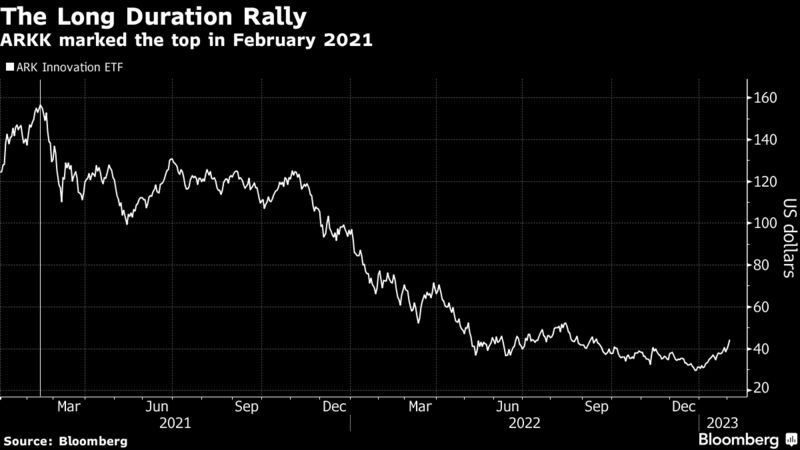 To recap, the Ark Innovation exchange-traded fund (ETF) was the most high-profile investment fund of the "bullsh*t bubble" — also known as the "long duration" or "jam tomorrow" bubble.
Wood's ETF invests in the hottest growth stocks. These stocks did well in the era of ultra-low-and-falling interest rates because their prospective future profits became ever more valuable the further interest rates fell.
As interest rates started to rise, those far-off profits lost their appeal. This was compounded by the end of widespread Covid lockdowns, which quickly demonstrated that the "stay at home" stocks had enjoyed only a temporary boost to sales, rather than the permanently higher plateau that many — mystifyingly — appear to have budgeted for.
However, ARKK has enjoyed a spectacular rebound since the turn of the year. It made a fresh low in late December, but has since rallied by 50%, and has — notably from a technical analysis point of view — made a fresh high.
That said, it fell extremely far, so you have to be careful about reading too much into this. But it's a striking turn of events. We'll discuss what it might mean in more detail once we've gone through the rest of the charts.
Housebuilders Shrug Off Price Falls
The UK's housebuilding stocks continue to recover. These bottomed a bit before ARKK, but had a similarly tricky November and December. But now they've regained their mojo, and are up more than 40% on their October low. The market appears to believe it has priced in any risk from both falling home prices and rising build costs.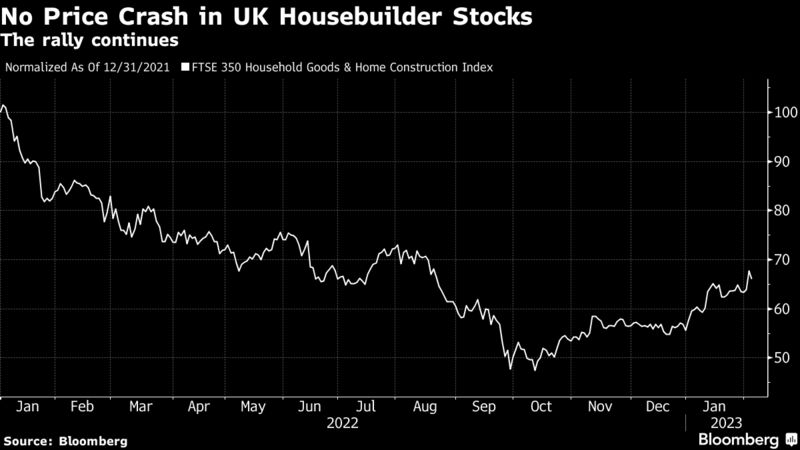 Back to the Budget
British government bond markets, meanwhile, are still behaving themselves and have fallen back into line with US and German peers. Indeed, it's worth noting that the 10-year yield is now back down to where it was before the September budget was even a twinkle in Kwasi Kwarteng's eye.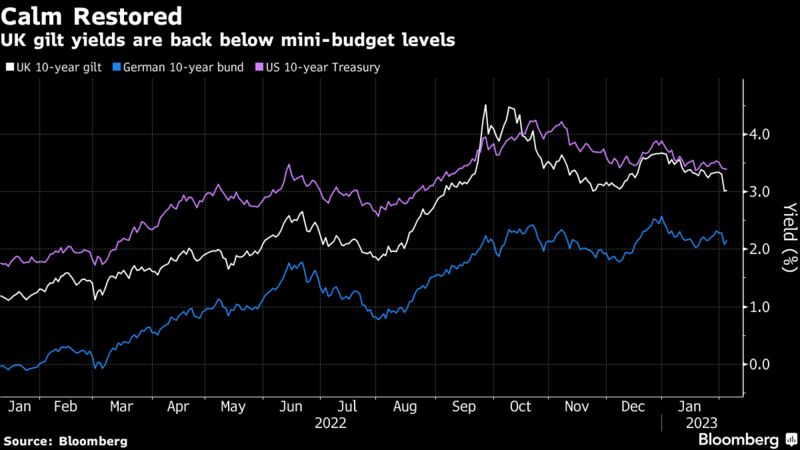 Supercycle Thesis Intact
Glencore Plc is one of the world's most important commodity stocks. If there's a broad bull market in resources — whether it's coal or lithium or copper — Glencore is well-placed to benefit. Given that China's reopening has given the commodity complex (excluding energy prices) a sharp kick in the backside, it's perhaps unsurprising that the share price continues to claw its way higher.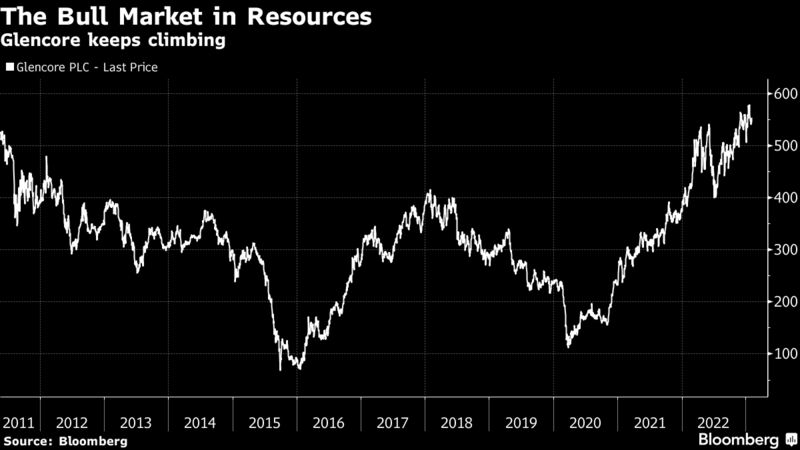 The Dollar Comedown
The most important price in the world continues to fall, which a little ironically is great news for the majority of other asset prices.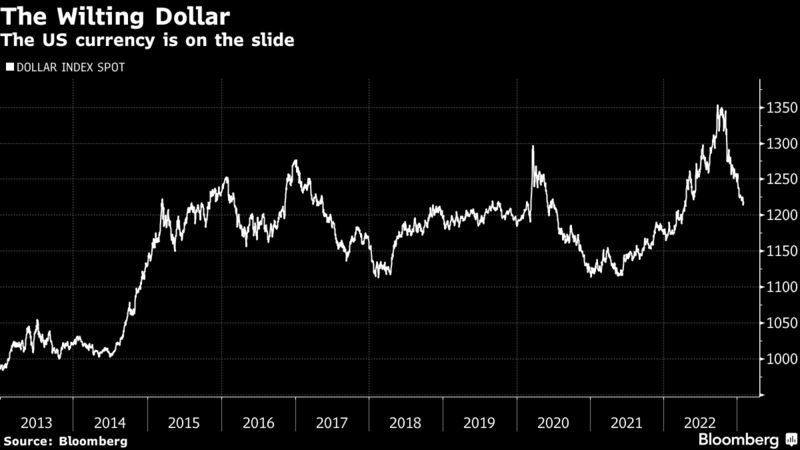 The US dollar (as measured by the Bloomberg dollar index — the dollar's value against a basket of 10 other major currencies) continues to wilt.
Summed up simplistically, this means that global financial conditions are getting looser. Why? Everyone needs dollars. If dollars get cheaper, it means there are enough to go round.
What Does it All Mean?
So what does it all add up to? This might all seem a bit confused, but to be honest, the theme is quite clear. Markets think that inflation has peaked, and that interest rates have also peaked.
That explains a) the falling US dollar; b) the drop in UK gilt yields; c) the ongoing recovery in UK housebuilders (if rates fall, we won't have as bad a drop in house prices and market activity as expected); d) the rebound in ARKK (supplemented by a big pinch of FOMO from those who've already missed the bounce in the better-quality stuff); and e) even commodity price relief — if you believe rates and inflation will be lower, but that we'll avoid recession too, then betting on growth, particularly with China reopening, makes sense.
So you can read the runes pretty consistently here. The market is betting on a Goldilocks outcome ("not too hot, not too cold, just right").
Now, as I always say, I don't have a crystal ball. My opinion, which you can throw into your mental mixing bowl along with all the other opinions you pay at least some attention to, is that we'll get better growth than expected, but that in the longer run, inflation will also stay higher and so will interest rates.
A man who puts this all far far better than I can is Russell Napier. And conveniently enough, he's Merryn's guest on her latest podcast. I know I always tell you this (and I do) but you really, really, really need to listen to this one if you want to get a coherent view of what the investment backdrop will look like for the coming decade. That's a big call, but that's Russell's speciality. Listen to it now. 
bloomberg.com 02 02 2023