Pump prices down from last year's record high, AAA data shows
Myra P. Saefong, MarketWatch
SAN FRANCISCO/NEW YORK
Energiesnet.com 06 30 2023
Average gasoline prices are down by roughly 27% from a year ago, but U.S. drivers will still be paying one of the highest prices for the Independence Day holiday on record.
Prices for a gallon of regular unleaded gasoline averaged $3.543 on Friday, down 27% from $4.868 a year ago, according to AAA. That's also marks a 29% drop from $5.016 on June 14, 2022 — the highest price on record.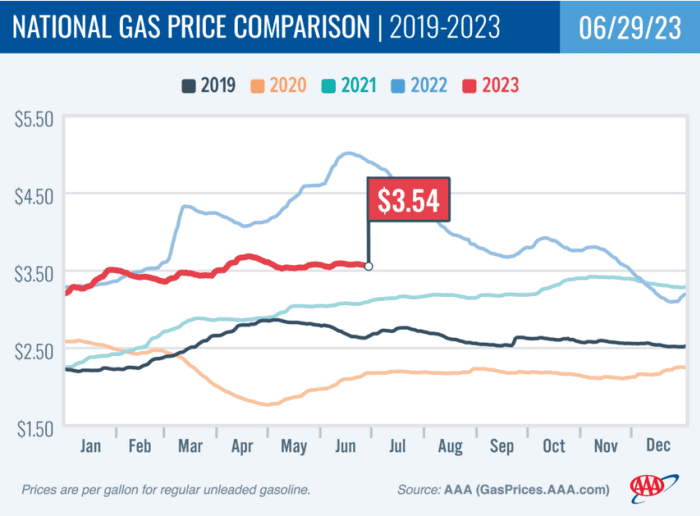 The average price for the fuel this weekend will likely hold around $3.55, said Tom Kloza, global head of energy analysis at the Oil Price Information Service (OPIS), a Dow Jones company. He estimates that the July 4 holiday will see the fourth most-expensive gas prices on record, surpassed by last year's average $4.81 a gallon and 2014's $3.66 for the holiday period.
Depending on the state you live in, prices will still vary widely. States that get their gasoline from refiners in Texas and Louisiana will see "lots of prices just below $3 a gallon," Kloza said, while drivers in the Rocky Mountains and West Coast will see higher prices.
On Friday, the average price stood at $3.172 in Texas, while California drivers paid an average $4.827, according to AAA.
"When thinking back to a year ago, when retail gasoline prices reached a record high nationally of more than $5 a gallon, gasoline prices for the holiday are a bargain," said Brian Milne, product manager, editor and analyst at DTN.
Recent history, however, shows that gasoline prices are still "higher than they have been for eight of the past 10 [Fourth of July] holidays," he told MarketWatch.
That doesn't offer much comfort for travelers. AAA estimates that 50.7 million people will be travel by car, plane, train, bus and cruise boat over the long holiday weekend. That's more than the 48.7 million travelers for the comparable period last year, and 2019's record of 49 million.
Read: Fourth of July travel will break records, AAA says
Putting gasoline prices into better context, Patrick De Haan, head of petroleum analysis at GasBuddy, said U.S. drivers are paying, on average, about $20 less to fill up their tanks this year than last year, based on a 15-gallon tank.
A big reason for the overall gasoline price decline is demand uncertainty, he said. Demand hasn't been as strong as had been expected for this year, with monetary tightening leading to worries about oil demand.
The Independence Day holiday, which De Haan says spans from Thursday or Friday through Wednesday of next week, is longer than we've seen in the past — but even then, he doesn't expect the lower gasoline prices to lead to a spike in demand.
Drivers are saving money on gas but just about everything else is more expensive, including hotels, so demand isn't likely to reach a record for the holiday, said De Haan.
For the July 4 holiday, gasoline demand may hit 9.3 million or 9.4 million barrels a day, compared with a record for the holiday of around 10 million barrels a day in 2019, he said.
DTN's Milne said that midway through the year, U.S. gasoline demand is 1.5% higher than in 2022, yet gasoline demand trails the prepandemic rate "considerably," down 4.7% and 4.6% compared with 2018 and 2019, respectively.
Lower crude prices CL.1, 0.95% CLQ23, 0.95% have also been a key factor in the drop for retail gas prices. Milne pointed out that retail gasoline prices reached a record high of more than $5 in 2022 as global oil prices BRN00, 0.78% BRNU23, 0.76% spiked that year following Russia's invasion of Ukraine.
Russia is one of the three largest oil-producing countries in the world but as the war continues, "the worst fears of oil flows being disrupted have evaporated," said Milne.
Looking ahead, supply will be a major concern.
Hurricanes stand as the biggest risk for higher gasoline prices this summer, Milne said. The Atlantic hurricane season officially began on June 1 and runs through Nov. 30. The National Oceanic and Atmospheric Administration predicts "near-normal" Atlantic hurricane activity this year, with 12 to 17 named storms, and the potential for five to nine of those becoming hurricanes.
Oil refining capacity is concentrated along the U.S. Gulf Coast, said Milne. "Despite efforts to 'harden' these facilities in recent years, a direct hit by a major hurricane would disrupt refinery operations, potentially shutting a facility for an extended period of time," he said. "Such an event would push gasoline prices higher."
OPIS's Kloza pointed to uncertainty surrounding the supply outlook for gasoline in the next couple of months. There will likely be "a lot of crossed fingers on July and August supply," he said.
"We'll see considerably lower gasoline prices in the fourth quarter but the third quarter is a tossup."— Tom Kloza, OPIS
"The Northeast tends to see travel peak in August, while the rest of the country sees its highest demand in July," he said. For now, Western gasoline prices are still high enough to suppress driving on the Pacific Coast, while the largest surge in demand appears to come from the least-populated region — the Rocky Mountain states.
As for the price outlook, "we'll see considerably lower gasoline prices in the fourth quarter but the third quarter is a tossup," Kloza said.
marketwatch 06 30 2023