U.S. refinery issues, strength in crude oil prices have led to rising prices for gasoline at the pump
Myra P. Saefong, MarketWatch
SAN FRANCISCO
Energiesnet.com 07 27 2023
Retail gasoline prices have climbed to their highest since late April, buoyed by refinery outages and strength in crude oil prices that have the potential to lift drivers' costs at the pump to the highest since last summer.
On Tuesday afternoon, the average price for regular unleaded gas stood at $3.604 a gallon — the highest daily average since late April, according to data from GasBuddy. That's 6 cents a gallon above a month ago, but still nearly 72 cents a gallon below a year ago.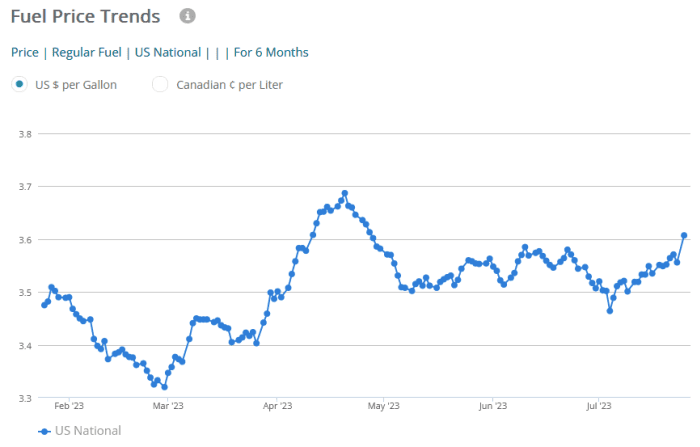 There's been a handful of oil refinery unit issues at Port Arthur in Texas and Baton Rouge in Louisiana, recently, and an ongoing problem with a gasoline making unit at Bayway in New Jersey, said Brian Milne, product manager, editor and analyst at DTN.
At Phillips 66's PSX, -0.64% Bayway refinery, a 150,000 barrel-per-day catalytic cracking unit, was offline most of June and July for unscheduled repairs, Reuters reported Tuesday.
Exxon Mobil Corp. XOM, +0.31% told MarketWatch that its conducting maintenance on a unit at its Baton Rouge refinery, but operations at the refinery continue. A spokeswoman said its working to complete the maintenance as quickly as possible and ExxonMobil continues to meet customer contractual commitments. Bloomberg reported Monday that a gasoline-making catalytic cracker at the Baton Rouge refinery may be down for several weeks.
There have been heat-related outages at several refineries in Texas, said Patrick De Haan, head of petroleum analysis at GasBuddy. Typically, these outages are short, but the "heat dome is expected to stay in place for another few days so outages could drag on, limiting supply of gasoline at a time when inventories are at their lowest July level since 2015."
"We're not in good shape," he said.
Extreme heat can cause "equipment upsets," and even power outages that sometimes accompany high temperatures and power demand, De Haan explained. That can "knock a refinery out for at least a few days."
"Refineries are exposed to the elements and the extreme temps (whether hot or cold) can wreak havoc on this sensitive equipment," De Haan said.
Following the refinery outages, gasoline prices are just starting to spike up with the national average on Monday marking its largest daily jump since March, he said. "Many states are just starting to see the surge translate to pump prices."
For the week ended July 14, the Energy Information pegged total motor gasoline supplies at 218.4 million barrels, down 4.4% from a year ago.
The refinery issues have lent upside price support, which could continue, said Milne, especially if "gasoline inventory is drawn down sharply."
For now, drivers haven't seen bigger gasoline price increases at the pump because, while gas demand this summer is above the summer of 2022's consumption rate, it trails the demand pace in 2018 and 2019, Milne said.
Futures prices for reformulated gasoline on Monday settled at $2.8951 a gallon on Nymex, the highest finish since October.
The advance in gasoline futures coincides with oil prices, which have also surged. Month to date as of Monday, front-month U.S. benchmark West Texas Intermediate crude futures have risen by more than 11%, according to Dow Jones Market Data.
In Tuesday dealings, September WTI oil CL.1, -0.29% CLU23, -0.29% traded at $79.71 a barrel on the New York Mercantile Exchange.
The 3-2-1 crack spread, which represents the theoretical refining margin, was at $41.11 a barrel, based on futures price settlements from Monday. That's a "strong" level, said Milne, though it was stronger earlier in the year, with the first quarter a "fantastic" quarter for refinery margins. See the CME Group's crack spread conversion calculator.
In short order, gasoline prices at the pump may reach the highest price of the year —- $3.66 a gallon, said De Haan, adding that prices may even head to $3.75 or so.
At this point, he said he'd "hate to see a hurricane now come in and further impact refinery [operations]."
If there is a "perfect storm" or Atlantic hurricane, "there's a strong chance we could get to $4, or even $4.25 a gallon for a national average" gasoline price, said De Haan. Prices haven't been at or above $4 on average since August of last year.
marketwatch.com 07 27 2023