Mexico output fell three out of four years of AMLO presidency
Company is seeking to pay off about $8 billion in mature debt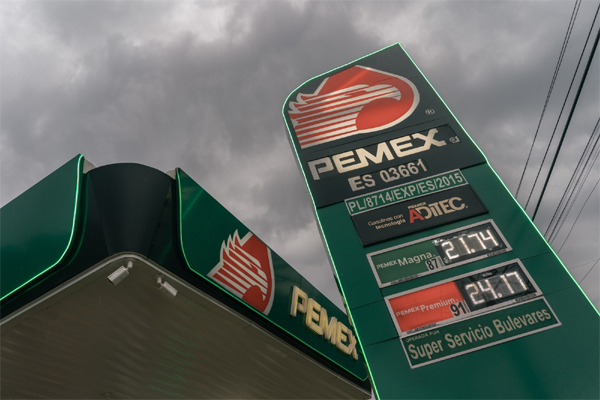 Amy Stillman, Bloomberg News
MEXICO CITY
Energiesnet.com 02 28 2023
Petroleos Mexicanos reported $9.4 billion in losses in the final quarter of last year as the state oil giant failed to revive sinking oil production and scrambled to fund its mountain of debt.
The Mexican state oil company said Monday it had a fourth-quarter net loss of 172.4 billion pesos ($9.4 billion) compared with a net loss of 52 billion pesos in the third quarter, once again foregoing profits at a time when many major oil companies are raking in record billions.
Pemex is struggling to pay down debts that have risen to the highest of any oil major in the world. It must find the means to pay for about $8 billion in maturing debt this year.
"We are addressing our upcoming maturities with a three-component strategy," Jose Alberto Jimenez, Pemex's associate managing director of finance, speaking on a call to investors Monday. "One is an orderly return to the market." The company is also working with banks to address upcoming loan maturities and could tap additional government support if needed, he said.
Mexico's oil output fell to 1.62 million barrels a day last year, marking the third year out of four years of President Andres Manuel Lopez Obrador's presidency in which crude production has declined, according to data from the National Hydrocarbons Commission. The president promised a turn around at the state oil giant by focusing on easier-to-reach shallow-water and onshore fields but the strategy has failed to bear fruit.
Bloomberg reported last week that Pemex is in talks with Goldman Sachs Group Inc. and JPMorgan Chase & Co. for at least $1 billion in collateralized debt. It comes after Pemex issued $2 billion in 10-year bonds in January that were among the most expensive new debt of the year. While the high cost can be partially explained by current global credit conditions, the fact that the driller tapped international capital markets at all underscores its troubles.
The government has provided about $45 billion to Pemex in capital injections, tax breaks and other assistance since 2019 and could step in if necessary.
Pemex also faces increasing scrutiny on its environmental, social and governance, track record and could have difficulty drumming up the loans it needs from banks that are increasing their ESG requirements for financing.
The company has indicated it will focus on reducing greenhouse gas emissions and methane from flaring excess gas, as well as its safety record. Yet three fires at separate facilities last week that resulted in four workers' deaths bode poorly for the struggling state oil giant.
bloomberg.com 02 27 2023