Corruption probe ensnares crypto industry with halt on mining
Cash-strapped miners could be forced to close as ban drags on
Nicolle Yapur and Andreina Itriago Acosta, Bloomberg News
CARACAS
Energiesnet.com 09 22 2023
Venezuela's temporary ban on mining cryptocurrencies within the country is effectively killing the industry President Nicolás Maduro worked hard to promote.
State regulators first ordered a halt on crypto mining in March, after opening an investigation into a large corruption scheme in which crypto wallets were allegedly used to redirect payments owed to the state-run oil company Petróleos de Venezuela SA.
Maduro had personally pushed the use of crypto and specifically the Petro sovereign token, issued by the government. The coin was touted as an alternative to the Venezuelan bolivar in the face of hyperinflation and as a tool to bypass crippling US sanctions. But as the state's halt on crypto mining drags into a third month, many cash-strapped miners could be forced to shut for good. And the Petro, which never took off but was once deemed by Maduro as Venezuela's gateway to the future, stopped trading May 24.
"It is unfortunate that after going through so much trouble to formalize and do things right, we are now in this situation," said Alexis Lugo, who's been working in digital assets for seven years and now leads an educational crypto project called Criptoneros.
Roughly 80 people have been arrested in connection to the oil scandal, in which Venezuelan crude was allegedly sold through the country's crypto oversight agency without paying fees to PDVSA. This includes former technology minister Hugbel Roa, who played a key role in promoting the Petro, and Joselit Ramírez, who managed the crypto superintendence. However, it's little understood why the ban on crypto mining persists.
The vast majority of miners — which use specialized computers to validate transactional blockchain data — are focused on Bitcoin and have nothing to do with the Petro, as the tokens are 100% "pre-mined" by the government. Still, an estimated 75,000 units of mining equipment have been disconnected, according to estimates from mining groups. That's roughly the equivalent of an entire fleet of machines owned by a major publicly traded mining company such as Riot Platforms Inc.
The intelligence police, known as Sebin, have been conducting audits of miners, seeking confirmation any funds used to purchase equipment didn't come from the oil corruption scheme, said people familiar with the matter, who asked not to be named. But so far, no miners are known to have been detained or charged with a crime.
"The innocent are paying for the sins of the guilty," said Juan Blanco, chief executive officer of BitData, a 10-person crypto miner in Caracas that's also focused on crypto education.
A Changed Landscape
The country's ban on mining comes as miners from across the globe have been struggling with the plunge in Bitcoin on top of higher electricity costs. Core Scientific Inc., the largest public Bitcoin miner by computing power, went bankrupt last year, and multiple miners have warned of liquidity crunches.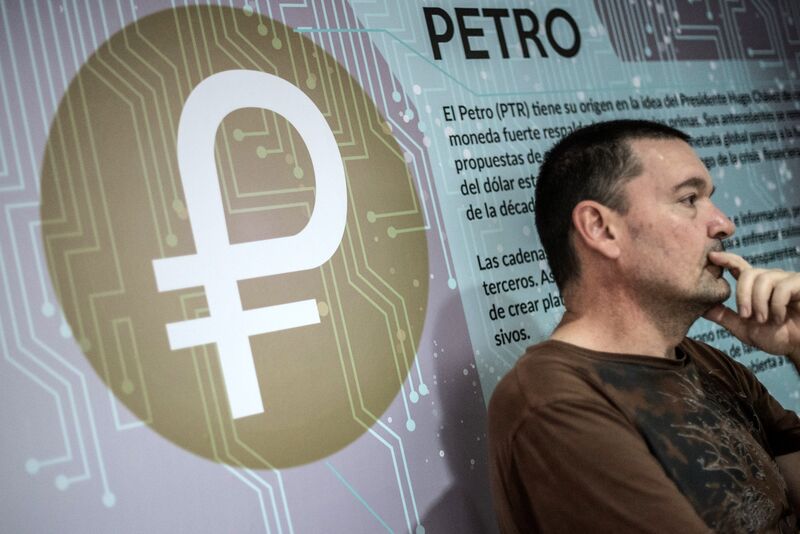 Those operating in Venezuela had been partially insulated from higher power costs, as the country enjoys some of the lowest electricity rates in the world. But an about-face by the Maduro government on its crypto-friendly polices has put the country's status as a mining haven into question.
Maduro had called crypto the force to lead the revolution "hand in hand." In pushing the use of the Petro, his administration had created a Petro app, a crypto bank and billboards atop government buildings with the Petro's logo.
Now, things have drastically changed. Beyond the halt on crypto mining and trading of the Petro, most of the large scale Petro advertisements are gone; armed officials hold constant guard outside the nation's crypto regulator; and Venezuelan crypto exchanges have been forced to shutter operations in the local currency after regulators had their banks accounts blocked.
"Nobody knows for sure what is going to happen with the Petro or the crypto [regulator]," said Humberto Quevedo, a crypto trader and director of an organization of traders and miners known as Asonacrip. "We are in the dark without an official statement."
bloomberg.com 06 21 2023