Protests turned violent: almost 200 arrests, one cop injured
Orange paint was spilled in front of the Justice Ministry
Albertina Torsoli, Ania Nussbaum and Samy Adghirni, Bloomberg News
PARIS
EnergiesNet.com 05 02 2023
Anger over President Emmanuel Macron's pension reform spilled into the streets of Paris as more than half a million people marched across France to challenge a law raising the retirement age.
The May Day protest marks a rare event since World War II when labor unions in France have come together. It points to the degree of discontent toward a decision borne out of economic necessity but that has been deeply unpopular and will test Macron's mettle in his final legacy-building term.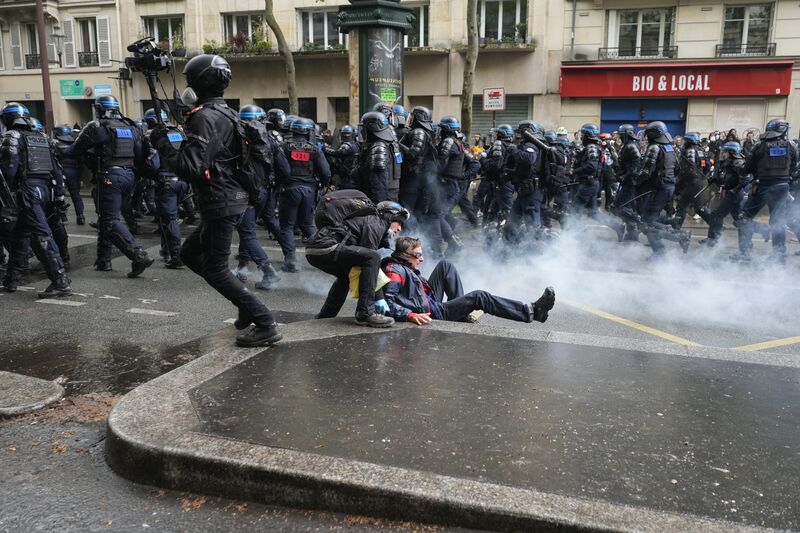 As of 5 p.m. local time, about 180 people had been arrested across the country, 68 of them in Paris, according to the latest figures available from the authorities. More than one police person was wounded, with one cop suffering serious injuries after being burned by a thrown Molotov cocktail. In Paris, activists spilled buckets of orange paint in front of the Justice Ministry.
Symbols of corporate power, such as the Louis Vuitton Foundation on the outskirts of Paris, were defaced. In Montbard, a town in Burgundy, people were banging on saucepans, a tradition that dates back to the overthrow of the French monarchy back in 1789.
Some 782,000 people protested across France, 112,000 of whom were in Paris, the Interior Ministry said. The numbers were much higher according to labor union CGT, which tallied a total of 2.3 million people in the country. Unions are meeting Tuesday to decide on the next steps.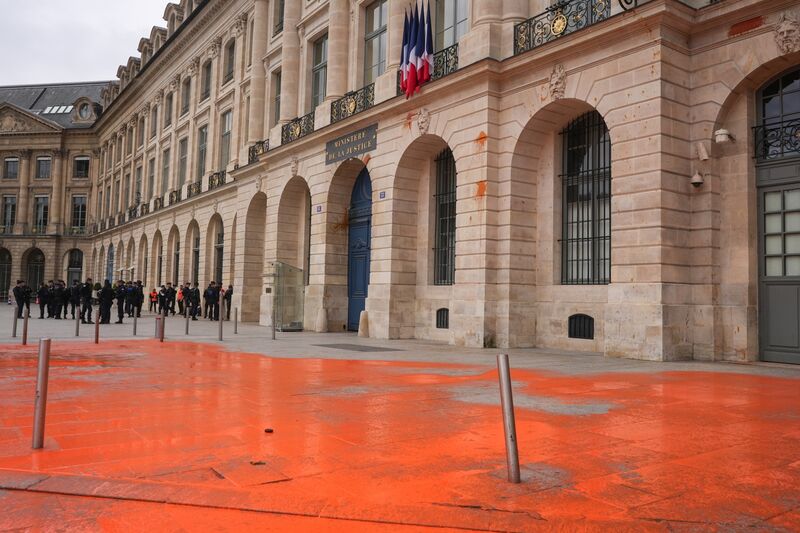 The revolt stems from Macron's determination to raise the minimum retirement age to 64 from 62, and there is nothing that the protests can do to overturn something that is now enshrined into law even if it's cost him a majority in parliament.
Macron has attempted to burnish his international image with some high-profile trips abroad, including China. Back home though, he's so unpopular of late that Le Point reported that no images of him were retransmitted on big screens at the Stade de France stadium during the Football Cup Final on Saturday.
The protests have captured global attention.
In Washington, at a weekend event with President Joe Biden present, a famous comedian noted the protests in his skit and quipped: "Meanwhile in America, we have an 80-year-old man begging us for four more years of work."
In France, it has inflamed passions and led to evocations of the past, including by those who ran against Macron.
"You have to work less," far-left leader Jean-Luc Melenchon said Monday. "You have to work less and to work better."
Interior Minister Gerard Darmanin responded to the mounting violence with a tweet, saying that "the police face extremely violent thugs who came with one objective: to kill cops and attack the property of others."
François Lecuyer, a retired resident who used to work for the Bank of France and voted for Macron twice, says he's had enough of the pension reform and Macron's style of government.
"Let's throw technocrats to the trash bin," he said. "Working conditions are not good enough to work longer, whether it is in a bakery, in a factory or just clicking on a mouse all day."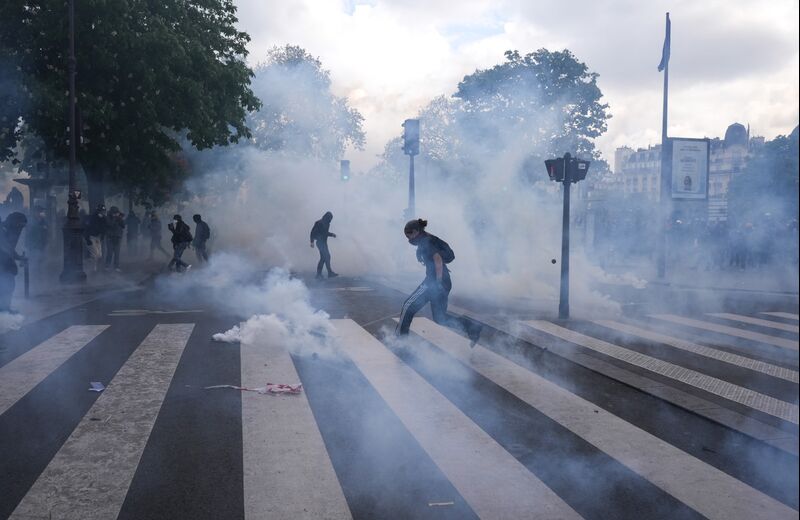 It remains to be seen if this marks a turning point in what has been a months-long wave of protests. The strikes had waned in recent weeks but could galvanize on the back of brewing resentment against the imperial image of Macron, who at one time compared himself to Jupiter, the king of Roman gods.
The sticking point is that he availed himself of a constitutional provision to pass the pension reform without a full parliament vote.
Macron says raising the pension age is vital to boost employment rates and halt the build-up of deficits in the massive public retirement system as the population ages. Unions say changing the age thresholds to claim a full pension will damage the least well-off and that there are other options to balance the system, including higher taxes on business and the wealthy.
Some 60% of French voters support the call to demonstrate on May 1, with backing especially strong among those who say they're close to left-wing parties and the far-right movement of Marine Le Pen's National Rally party, according to an Ifop poll for Sud radio.
In recent days Macron has sought to convey a conciliatory tone, acknowledging people haven't accepted the retirement age hike.
He traveled outside Paris to talk about health care and education, but in most trips he's been met by demonstrations including people banging those revolutionary saucepans.
Le Journal du Dimanche newspaper reported on Sunday that some ministers have stopped communicating planned events on their agendas to avoid aggressive crowds. 
bloomberg.com 05 01 2023