Pension reform bill to shore up TES demand, Ocampo says
Colombian interest rate rises already achieved their goal
Matthew Bristow, Bloomberg News
BOGOTA
EnergiesNet.com 03 20 2023
Colombia's ambitious overhaul of its pension system will create a major new player in the local market and shore up demand for the nation's bonds, according to Finance Minister Jose Antonio Ocampo.
The pension bill that will be sent to congress this month will give birth to a savings fund that can invest in local debt, Ocampo said, in a wide-ranging conversation that also touched on his own future, as well as this month's central bank decision.
The bill has been designed to prevent any drop in the national savings rate or in demand for government peso bonds known as TES, he said.
"From the Ministry of Finance's point of view, in all the discussions with the Minister of Labor, one of our first principles is that there can not be a reduction in the demand for TES," Ocampo said Sunday, in an interview in Panama City. "There will be no effect. In fact, there might be a slightly positive effect on demand for TES."
The bill, part of leftist President Gustavo Petro's radical attempt to transform Colombia's welfare state, would move into the state pension system a large majority of the workers who currently contribute to private pension funds. Since these funds own about a quarter of outstanding TES, many investors are fretting about the risks to this market from weakening one of its biggest players.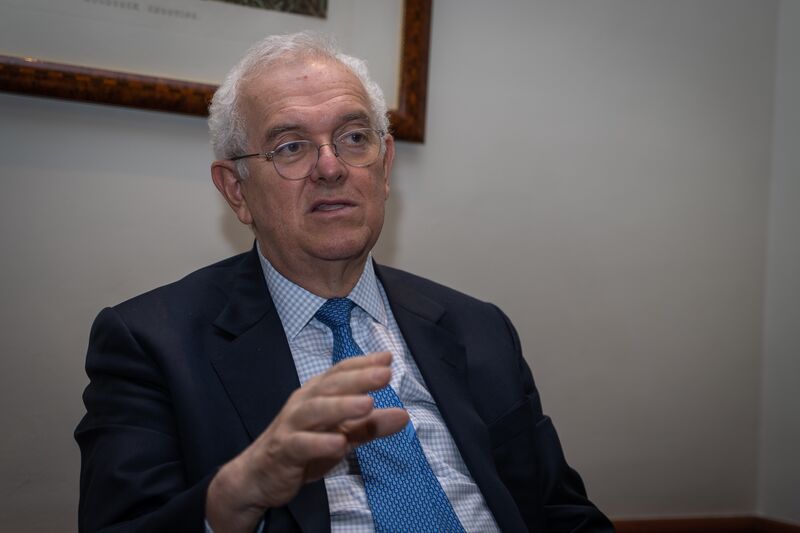 Ocampo sees these fears as unfounded, since the new fund would be an additional source of demand. The government wants to direct 20% of the payments into the state system to this fund, with the percentage rising after 2030.
The fund will be able to invest in corporate bonds, but won't buy equities, Ocampo said.
The government hasn't yet decided who should manage the fund, but it will be independent of Colpensiones, the nation's public pension provider, and the Finance Ministry, he said. The fund manager will be selected via a competitive process, and could potentially be a public institution.
The seven-month old Petro government is seeking to boost welfare provision and slash inequality with a set of new laws, which include the pension bill. Petro is also seeking to overhaul the nation's health care system, also by increasing the role of the state, and boost workers' rights with a labor bill.
All three bills are likely to be modified as they pass through congress. Colombia's local bonds are the worst performers in a Bloomberg index of emerging markets over the last year, losing investors 22%.
Oil Drilling 
One reason for the under-performance is Petro's pledge, during last year's presidential election campaign, to phase out Colombia's dependence on oil and coal, which currently account for about half of exports. He promised not to award any more exploration licenses and said the transition to clean energy will take about 12 years.
Since taking office, the government has sent mixed messages on the topic, with ministers contradicting one another. Last week, Deputy Energy Minister Cristian Andres Diaz said there won't be any new contracts "for now," but said that doesn't mean "no new contracts ever."
Ocampo said the government hopes to give "a definite answer" on whether it will award any new contracts in May, after a report is published on oil reserves.
Central Bank Meeting
Colombia's annual inflation accelerated to 13.3% last month, its fastest pace in nearly a quarter of a century. Despite this, and stronger-than-expected economic activity in January, Ocampo said the central bank has already done enough to ensure that inflation slows back to its target.
"The recent economic activity indicator was positive, but the demand indicators are are actually quite weak, including imports," he said. "So the effect on demand that the high interest rate policy was aiming at has, in my view, already been achieved."
Read more: Colombia Monetary Stance Sufficient to Tame Prices, Central Banker Says
Several factors that contributed to the spike in inflation are now moving "in the right direction," he said. These include international food prices, which are now falling, the weather, which is now favorable for domestic food production, and the rally in the peso from its lows in October, he said.
Inflation is about to start slowing toward its target, and has already been slowing for low-income households, Ocampo said.
Colombia's central bank holds its policy meeting on March 30, with traders split over whether it will extend or halt its steepest-ever series of monetary tightening with the key rate at 12.75%. Ocampo sits on the board, along with six other policymakers.
'Ocampo Exit Risk Premium' 
Ocampo is seen as the main voice of economic orthodoxy in the Petro administration, and someone who reins in some of the government's more radical ideas. This means investors in Colombian assets should demand an "Ocampo exit risk premium" in case he leaves the government, Citigroup Inc. strategist Dirk Willer said this month.
Read more: Colombian Assets Sink as Petro Cabinet Shakeup Spooks Investors
Ocampo said that Columbia University, where he works alongside Nobel laureate Joseph Stiglitz, recently extended his leave until June 2024.
The university generally gives leave of two years for public service. It made an exception for him when he was a central bank co-director from 2017 to 2020, though this isn't common, he added.
Ocampo said the government would keep spending under control in any case, since there's a "national consensus" that the fiscal rule, or balanced-budget act, should be respected.
"The issue of the spending limits, which is of course one of the critical issues, is something on which the president agrees," he said. "I have never heard the president of Colombia saying that he would not keep to the fiscal rule."
— With assistance by Maria Elena Vizcaino
bloomberg.com 03 20 2023