Former Bogota finance head Ricardo Bonilla replaces Ocampo
Bonds extend losses, CDS jump, peso drops in next-day trading
Matthew Bristow and Oscar Medina, Bloomberg News
NEW YORK/BOGOTA
EnergiesNet.com 04 26 2023
Colombia's President Gustavo Petro ousted his market-friendly Finance Minister Jose Antonio Ocampo and replaced him with a close ally, sending bonds tumbling and the cost of insuring Colombia's debt against default soaring.
Ricardo Bonilla, a former finance chief of Bogota, will take over from Ocampo, following a cabinet shake-up on Wednesday. Other cabinet changes include the ministries of health, agriculture and transport, Petro said in a statement posted on Twitter.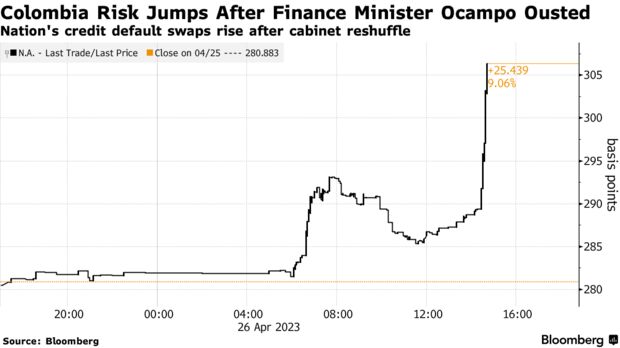 Regular currency trading was closed, but the peso weakened 2.5% to 4,659 per dollar in next-day trading. Colombia's dollar bonds extended losses after the surprise announcement, with notes due in 2041 tumbling to new lows for the day.
Petro wants to reinvigorate his cabinet as he tries to overhaul the nation's economic model by increasing the state's role in health care and pension provision. But he has faced stiff opposition, including from allies in congress, where his ruling coalition has crumbled.
Ocampo not only enjoyed a lot of credibility as an economist, but he was someone who said "no" to Petro, and reined in some of his proposals, said Sergio Guzman, director of Colombia Risk Analysis. Investors will be monitoring to see whether Bonilla is able to do the same, Guzman said.
Bonilla ran Bogota's finances when Petro was mayor from 2012 to 2015, and was one of his top economic advisers during the presidential campaign. Prior to today's announcement he was head of the state development bank, Findeter.
Market Reaction
"The initial market reaction of this appointment should be negative, but Mr. Bonilla's track record when he was President Petro's finance secretary during his mayorship in Bogota was not of someone known for overboard spending," Munir Jalil, Andean economist at BTG Pactual, said in a message. "We expect the fiscal commitment of this administration to continue under Mr. Bonilla's tenure as minister."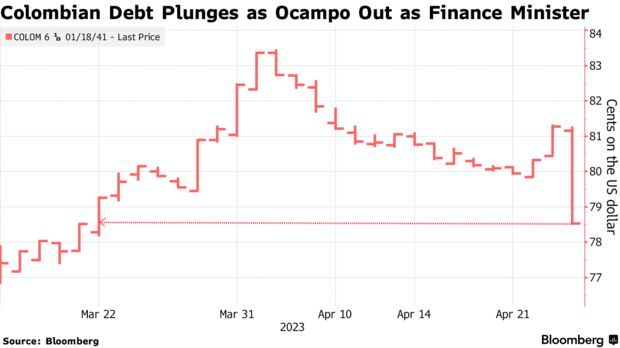 Bonilla presided over a slight fall in Bogota's debt burden during his time in office. During last year's presidential campaign, the adviser said Petro will run a fiscally-responsible government and argued that the nation needs to boost tax revenue to fund social programs and cut the fiscal deficit.
As mayor, Petro had a large turnover of staff in key positions, but he never fell out with Bonilla, suggesting that the pair have a close relationship.
Petro's controversial Energy Minister Irene Velez, whose anti-oil stance has alarmed some investors, will remain in her role. 
bloomberg.com 04 26 2023