Myra P. Saefong, MarketWatch
SAN FRANCISCO
EnergiesNet.com 04 24 2023
Gasoline prices at the pump marked a modest weekly decline on Sunday, their first in four weeks — and may have already reached their summer season peak, according to GasBuddy.
On Sunday, the average price for regular unleaded gas edged down by a slight 0.8 cent from a week ago to $3.64 a gallon, according to data from GasBuddy. That's up 22.8 cents a month ago, but down 46.4 cents from a year ago.
The highest average price so far this year was $3.687 on Thursday, data show. On Monday afternoon, prices stood at $3.642.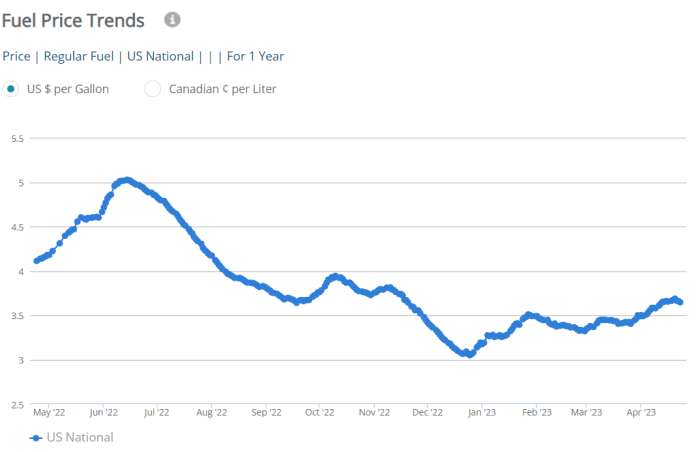 The weekly fall was "quite small" but the "bigger news may be that we may have seen a short-term peak for the price of gasoline," said Patrick De Haan, head of petroleum analysis at GasBuddy, in a press release dated Monday.
Gas prices typically peak between May and June, he said. The oil market has shown "significant cracks in strength," and the market "may have seen the peak in the national average already occur, a few weeks earlier than average."
The gasoline market "may have seen the peak in the national average already occur, a few weeks earlier than average."— Patrick De Haan, GasBuddy
On Friday, the front-month June contract for U.S. benchmark West Texas Intermediate crude CLM23, -0.47% CL.1, -0.47% settled at $77.87 a barrel on the New York Mercantile Exchange, down 5.5% for the week. It was down nearly 3% for the year after settling Thursday at the lowest since March 31.
The price of oil has continued to come under selling pressure as the global outlook remains "cloudy, with continued prospects of a global slowdown in demand, but OPEC+ cuts also on the other side of the equation," GasBuddy wrote in its Fuel Insights newsletter Monday. OPEC+, which comprises members of the Organization of the Petroleum Exporting Countries and their allies, in early April unexpectedly announced a production cut of about 1.16 million barrels a day that would take effect in May.
The "combination of rangebound crude-oil prices following the early April rally on news OPEC would cut their production in May, and overall limited growth expectations for gasoline demand are now pressuring retail prices," Brian Milne, product manager, editor and analyst at DTN, told MarketWatch on Monday.
He said it's certainly possible that the national retail gasoline price has peaked well in advance of the 2023 summer driving season. He warned, however, that "this expectation is guarded as a spike in global crude prices amid some unknown event would push the price of gasoline higher."
Milne said gasoline inventory in the U.S. should build as refineries finish seasonal maintenance, which was the most active spring maintenance season in five years, and exports remain strong.
He expects gasoline demand to grow versus a year ago, over the next few months or more, but that the "upside is constrained" — partly because commuting to and from work remains well below the pre-COVID pace and is unlikely to change over the next four or five months.
Meanwhile, GasBuddy's De Haan also said it's possible gas prices could go higher later this summer "should a major hurricane target sensitive infrastructure."
Even so, "it appears the odds that the national average will miss the $4 per gallon mark are rising," he said. "It's certainly looking optimistic for motorists."
GasBuddy data show that the states with the lowest average gasoline prices include Mississippi at $3.11, and Louisiana and Arkansas at $3.22, while states with the highest averages include California at $4.84 and Hawaii at $4.70.
marketwatch.com 04 24 2023