Peso may strengthen to 15.10/USD if "misvaluation" continues
Bank of America warns currency is vulnerable to a US downturn
Michael O'Boyle, Bloomberg News
MEXICO CITY
EnergiesNet.com 06 22 2023
The Mexican peso is looking increasingly overvalued, according to Goldman Sachs Group Inc, after a stunning rally that has brought it to the strongest level since December 2015.
The peso gained 17% over the last 12 months, making it the top performing major currency over that period, according to data compiled by Bloomberg News. That could be a result of an occasional "misvaluation" of the peso, wrote Goldman's Teresa Alves, saying it's not uncommon for the peso to be mispriced.
Mexico's currency has been propped up by interest rates above inflation, strong inflows from remittances, and fiscal and political stability that make it stand out from other emerging markets. Latin America's second-largest economy has also become a destination for companies looking to relocate factories closer to the US market, a trend called "nearshoring" that is boosting investment and demand for the currency.
Even with the current rally, the peso could strengthen even further, say Goldman and Brazilian brokerage XP Investimentos. The peso could rise to as strong as 15.10 per dollar if the mispricing becomes "extreme," Alves wrote in a note. A similar "misvaluation" phenomenon happened under the presidency of Donald Trump in the US, in which the peso was weaker than it should have been for an extended period of time.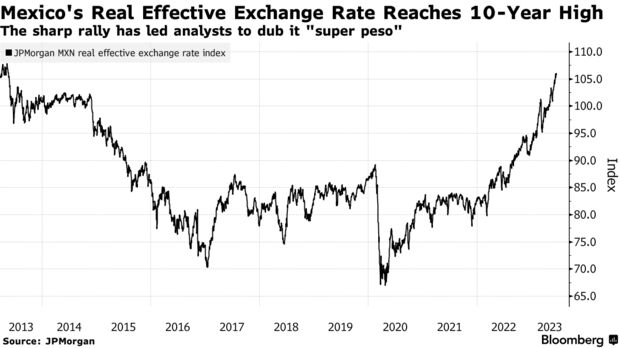 "We continue to see the Mexican peso as a currency that should continue to deliver positive total returns, but with an increasingly tougher climb to appreciate on a spot basis," Alves wrote in a note published on Wednesday.
To XP's Marco Oviedo, the high rates environment could lead the peso to become as strong as 16.30 per dollar by year end if portfolio inflows pick up. Mexico's central bank has telegraphed it will keep its key rate on hold for several months, even as inflation starts slowing.
The peso slipped as much as 0.5% against the dollar Thursday after data showed inflation in early June cooled more than expected before paring losses ahead of the central bank's policy decision later in the day. Policymakers are expected to keep the main rate steady at 11.25%.
Meanwhile, volatility in the currency has fallen to its lowest since October 2021, which may entice more carry trades. XP's Oviedo thinks the peso could stay strong even if the central bank begins to cut later this year.
Still, there are some risks ahead. A key question ahead is whether the peso could be vulnerable to an economic downturn in the US, Alves wrote.
Analysts at Bank of America Corp are also cautious, noting the peso is almost 20% overvalued relative to global factors. The high carry offered by peso assets over benchmark US interest rates can explain most of the currency's strength, Christian Gonzalez Rojas wrote in a note. Bank of America also warned that a US downturn could quickly unwind carry bets and take the peso with it.
"Our view is that investors should be cautious in weighing the tradeoff between earning carry and the potential downside in spot returns," Gonzalez Rojas wrote. 
bloomberg.com 06 21 2023