Nation's energy trade is important to spot market, bondholders
New Vaca Muerta gas pipeline to reduce need for imports
Ruth Liao and Jonathan Gilbert, Bloomberg News
WASHINGTON/BUENOS AIRES
EnergiesNet.com 06 22 2023
An unusually warm winter in the southern hemisphere is threatening to saddle Argentina with a glut of liquefied natural gas.
Argentina is spending about $1.8 billion to import 44 LNG cargoes this year, with 20 already delivered and the remainder scheduled to arrive in the coming months. The mild weather means some of those supplies may not be needed as households keep their heating off.
LNG traders closely watch Argentina's imports because it's a key buyer in the volatile spot market, and the country's bondholders monitor its energy trade because it affects the nation's precarious reserves of hard currency.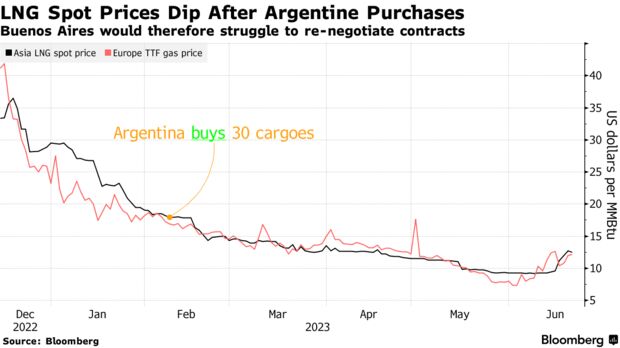 After a mild winter last year, state energy company Energia Argentina said it was able to sell three of its surplus cargoes on to other countries and book profits on the trades. But this year, Argentina agreed to pay around $20 per million British thermal units, and weakening demand in Europe has since sent prices tumbling. That leaves Argentina with little opportunity to flip cargoes, and suppliers aren't willing to renegotiate to lower the prices of the fuel that's already been contracted, traders familiar with the matter said.
Energia Argentina may be able to delay arrival of one or two cargoes, according to one person. Argentina's suppliers this year are BP Plc, TotalEnergies SE, Shell Plc, Vitol SA, Gunvor Group Ltd. and Glencore Plc.
A spokesperson for Energia Argentina declined to comment. Representatives of the country's Energy Secretariat didn't respond to a request for comment.
New Pipeline
A new natural gas pipeline out of the Vaca Muerta shale patch has been completed on time and in about a month will start boosting domestic flows by 11 million cubic meters a day — roughly 8% of last winter's production — reducing the need for imported LNG.
Read More: Argentina Starts Filling Gas Pipeline Estimated to Save Billions
The pipeline "will allow huge savings of hard currency because we'll never need large-scale LNG imports again," Energy Secretary Flavia Royon said last week.
— With assistance by Anna Shiryaevskaya
bloomberg.com 06 22 2023