WTI, Brent oil futures gain more than 8% for the week
Myra P. Saefong and Barbara Kollmeyer, MarketWatch
SAN FRANCISCO/NEW YORK
EnergiesNet.com 02 09 2023
Crude-oil prices settled higher Friday for a gain of more than 8% for the week, after Russia announced a retaliatory move against western price caps with a plan to reduce oil output by 500,000 barrels per day in March.
Price action
Market drivers
In a statement on Friday, Russian Deputy Prime Minister Alexander Novak said price ceilings that had been imposed by Western governments were "an interference in market relations and a continuation of the destructive energy policy of the countries of the collective West."
See also: Russia Threatens to Cut Oil Output in Response to Western Sanctions – WSJ
The "self-imposed cut isn't about Russia's inability to place its products in the market, but about shedding the price discount buyers are demanding," Manish Raj, managing director at Velandera Energy Partners, told MarketWatch. "To be clear, Russia has been able to sell every barrel it produces, but is annoyed by hefty discounts everyone is asking."
"By cutting back volumes, Russia wants to signal that it would rather forego volume than reduce its price."— Manish Raj, Velandera Energy Partners
"By cutting back volumes, Russia wants to signal that it would rather forego volume than reduce its price," he said.
The European Union banned imports of seaborne Russian oil and oil products and, together with the Group of Seven, adopted price caps for seaborne Russian oil and oil products. Western governments have largely banded together to punish Russia for its invasion of Ukraine nearly a year ago.
Read: Zelenskyy wraps up European tour to rally support with visit to EU summit
"As one of the steps to level the threat to the global oil market, Russia has introduced a ban on directly or indirectly using references to any illegitimate restrictions in oil supply contracts," Russia's Novak said.
Read: Why U.S. fuel prices continue to feel the effects of Russia's invasion of Ukraine
"To date, we are fully selling the entire volume of oil produced, however, as previously stated, we will not sell oil to those who directly or indirectly adhere to the principles of the price ceiling," he added.
OPEC + — the Organization of Petroleum Exporting Countries (OPEC) and non-OPEC members — said it had no action planned after the Russian output cuts, two delegates told Reuters on Friday.
Also read: Here's how U.S. gasoline prices compare to other parts of the world, says GasBuddy
Rebecca Babin, senior energy trader at CIBC Private Wealth US, said most analysts have "already penciled in" Russian production falling by 700,000 to 900,000 barrels per day in 2023.
"The key for crude to break out of its current trading range is Chinese demand recovery," she said in emailed commentary.
Some observers, however, said the price cuts were a sign that Russia may be having trouble unloading its energy products.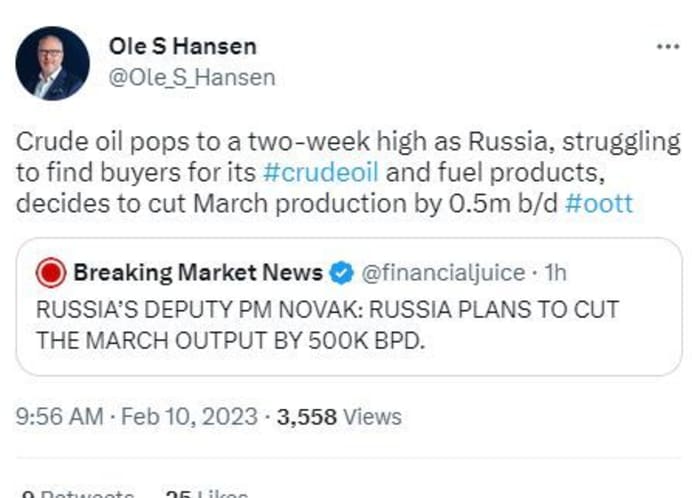 Oil prices have seen an impressive run of gains recently that halted on Thursday. Still, U.S. crude is looking at a roughly 8% gain for the week and Brent nearly that much, according to FactSet.
The gains have been driven in part by hopes surrounding the recovery of China's economy after the lifting of COVID restrictions in December.
In a note dated Thursday, analysts at Goldman Sachs said they see "the China comeback as the most persistent driver of the outlook" for oil.
The 1.1 million barrel per day rise in China demand this year "should push oil markets back into deficit in June, expose structural underinvestment, boost prices, and lead OPEC to reverse its November 2022 production cut" in the second half of 2023, they said.
Still, Goldman Sachs lowered its Brent oil spot price forecast for 2023 to $92 a barrel, from $98 and for 2024, to $100 from $105. It also cuts its WTI spot price forecast for this year to $86 from $92 and for 2024 to $94 from $99.
The adjustment for Brent in particular "reflects a modest softening to our 2023 balance, with the bulk of the revision due to a lower path for long-dated prices," the analysts said.
marketwatch.com 02 09 2023