Gas prices may fall under $3.50 by Christmas, says GasBuddy's Patrick De Haan
Myra P. Saefong, MarketWatch
SAN FRANCISCO
EnergiesNet.com 11 17 2022
Americans will likely pay the highest seasonal prices for gasoline next week, but that's not likely to deter travelers during the Thanksgiving holiday, according to fuel savings platform GasBuddy.
The national average price for regular gasoline is expected to stand at $3.68 a gallon on Thanksgiving Day.
That price, according to GasBuddy, would be 30 cents higher than last year and more than 20 cents higher than the previous record for the Thanksgiving holiday, based on data going back to 2000, at $3.44 in 2012.
Motorists are likely feeling nauseous from a "dizzying year at the pump," said Patrick DeHaan, head of petroleum analysis at GasBuddy, in a recent press release. "Not from the eggnog, but from the roller coaster ride at the pump with record gasoline prices earlier this year, which have fallen significantly since mid-summer."
Gasoline prices reached a record $5.034 a gallon on June 16, GasBuddy data show. On Thursday afternoon, they stood at $3.729.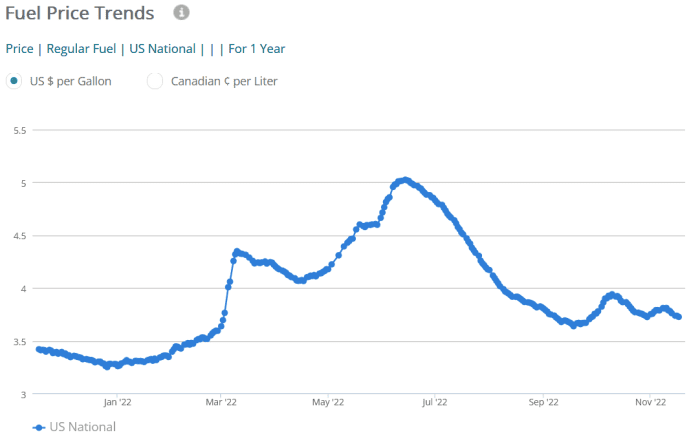 Prices remain above their year-ago level, and a GasBuddy survey on Thanksgiving travel shows that of the 62% of Americans not planning to take a road trip for the holiday, 21% said they're choosing not to drive due to high fuel prices.
Still, the survey showed that 38% of Americans will travel by car for the holiday —up 6 percentage points to represent a nearly 20% rise from 32% last year.
Separately, AAA predicts that 54.6 million people will travel 50 miles or more from home this Thanksgiving — up 1.5% from 2021 and 98% of pre-pandemic volumes, with nearly 49 million of those travelers expected to drive to their destinations.
AAA travel's forecast, with methodology developed by S&P Global Market Intelligence, shows that this year is projected to be the third busiest for Thanksgiving travel since motorist and leisure travel group started tracking the data in 2000.
Still, following gasoline's hefty decline from the year's record prices, diesel has taken the spotlight in the energy market, with tight supplies for the fuel going into the winter heating season — but that may actually help boost gasoline supplies.
Read: Diesel shortage keeps fuel prices high at the pump
Also see: EIA forecasts higher heating-oil and diesel prices as U.S. distillate supply marks lowest end-of-October level in over 70 years
"Diesel supply will likely remain constrained into the remainder of the year, but we should see more builds as refiners finish maintenance," De Haan told MarketWatch. That may have an "opposite effect on gas prices, pushing them down as refiners chase distillate," which includes diesel and heating oil, and have to produce more gasoline as a result.
Looking ahead, particularly given the recent selloff in oil prices, De Haan believes drivers could see the national average for gasoline prices fall under $3.50 by Christmas — and "perhaps even more."
marketwatch 11 17 2022