Myra P. Saefong, MarketWatch
SAN FRANCISCO/NEW YORK
EnergiesNet.com 02 23 2023
Prices for heating fuels have dropped since the start of the year, but U.S. consumers may have to wait until after the winter season is over before those price declines translate into any measurable cost savings —then suffer from another price rise as demand for the fuels shifts to the summer cooling season.
Generally, it can take months for lower heating fuel prices to reach consumer bills, "especially for regulated utilities who, by law, have to pass those costs on and neither profit nor lose money when prices rise and fall," said Chris Ventura, Midwest executive director for the Consumer Energy Alliance, an energy and environmental advocacy group.
Natural-gas futures have lost over half their value this year, down 54% year to date as of Feb. 21, after posting three consecutive years of gains. Ultra-low sulfur diesel futures, also known as the heating-oil contract, trade 17% lower so far in 2023 following a 44% jump last year.
Read: Natural-gas futures mark their biggest monthly decline in 22 years
The global market is always the "biggest underlying price factor" for heating fuels, but local or regional "market challenges that limit the supply needed to meet demand in an area will always create sharper price swings," said Ventura.
The U.S. still does not have oil and gas production meeting or exceeding pre-pandemic levels, he said, citing that as among the reasons behind last year's sharp rise in heating-fuel prices. It's also difficult to build the infrastructure needed to bring oil and natural gas from where it's drilled to where it's needed as a result of "constant activist lawsuits."
Sanctions on Russian oil and natural gas, meanwhile, led to supply issues around the world, specifically for U.S. refiners, whose operations were designed to handle heavy crude grades like that produced in Russia, Venezuela and Canada, said Ventura.
Read: Why U.S. fuel prices continue to feel the effects of Russia's invasion of Ukraine
Still, prices for the heating fuels have managed to drop significantly in the first few weeks of this year.
Prices have come down because winter demand has been less than expected, Europe has not drawn distillate barrels away from the world market, and Chinese demand has been weak, said Nitin Kumar, managing director and senior analyst at Mizuho Americas. The market remains "tight," but the situation "was not as dire as people expected."
In a monthly report released on Feb. 7, the Energy Information Administration lowered its forecast for 2023 U.S. natural-gas prices to $3.40 per million British thermal units, down 30.5% from the January forecast. For 2024, it cut its forecast by nearly 16% to $4.04. The government agency also reduced its 2023 heating oil price forecast by 2.6% to $4.07 a gallon and 2024's by 0.9% to $3.62.
The average U.S. household that uses natural gas as a primary heating source is expected to spend 15% more for energy for the 2022 to 2023 winter season, which runs from October through March, compared with the previous winter, according to a base case forecast update from the EIA in January. In October, the EIA forecast a larger 28% rise. The average household that uses heating oil as the main heating source is estimated to spend 26% more this winter, than last.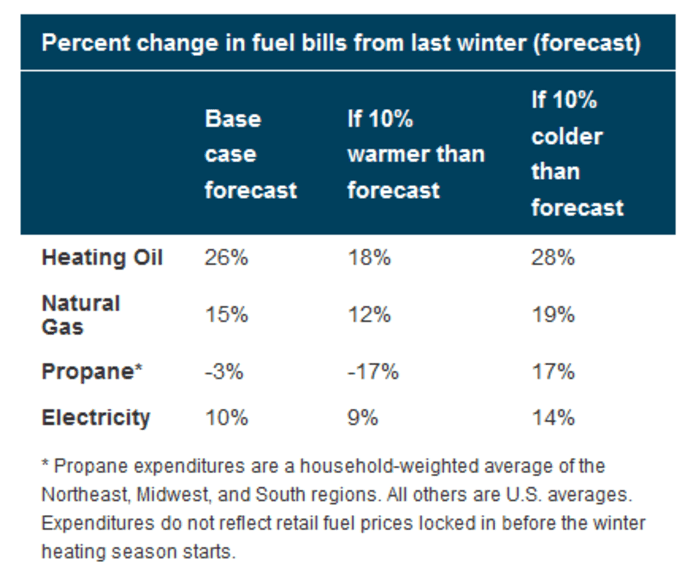 "As natural-gas prices and temperatures moderate, bills will be less severe," said Lynsey Paulo, spokeswoman for Pacific Gas and Electric Company, a unit of PG&E Corp. PCG, +3.27% that provides natural gas and electric service to around 16 million people in northern and central California.
Natural-gas prices change daily, and customer rates for the month are generally set based on wholesale prices at the end of the previous month, she explained. "That timing results in a delay from the price in the market, to when customer rates are set, to when customers are billed for their usage in a particular month."
Due to this delay, customers may still see higher bills in February and March, depending on the billing cycle, said Paulo.
On its news and insights page, the utility said PG&E customers this winter have used more natural gas than the five-year historical average and as of Jan. 25, it expects residential energy bills would be about 32% higher from November through March compared with the same months last winter. The utility also said it does not control market prices and does not mark up the cost of the energy it purchases on behalf of its customers.
Again mentioning the difficulty of building the infrastructure to transport oil and natural gas to where it's needed, Ventura said portions of the country, like New England, can face some of the "highest spot prices in the entire industrialized world when the weather turns." When there are forecasts for colder weather, that can cause prices to be "bid up as traders make their purchases for the coming heating season," he explained.
"Those costs take a while to show up on people's bills," said Ventura. "And while it's jarring to see prices go down on the market, and then get a huge [energy] bill, it's worth understanding that there is always a lag time."
"As the winter heating season ends, consumers will be left paying off higher energy bills for months to come."— Chris Ventura, Consumer Energy Alliance
"As the winter heating season ends, consumers will be left paying off higher energy bills for months to come," he said.
U.S. natural-gas consumption, however, sees a second seasonal peak in the summer as cooling demand rises, lifting demand for electricity — of which around 38% is generated by natural gas, according to the Energy Information Administration.
Ventura said he remains "cautiously optimistic prices will moderate in the summer as the EIA has forecast, even though electricity bills will likely climb because of the usual weather-driven demand for cooling."
marketwatch.com 02 23 2023